A University should be a place
of light, of liberty, and of learning
(Benjamin Disraeli)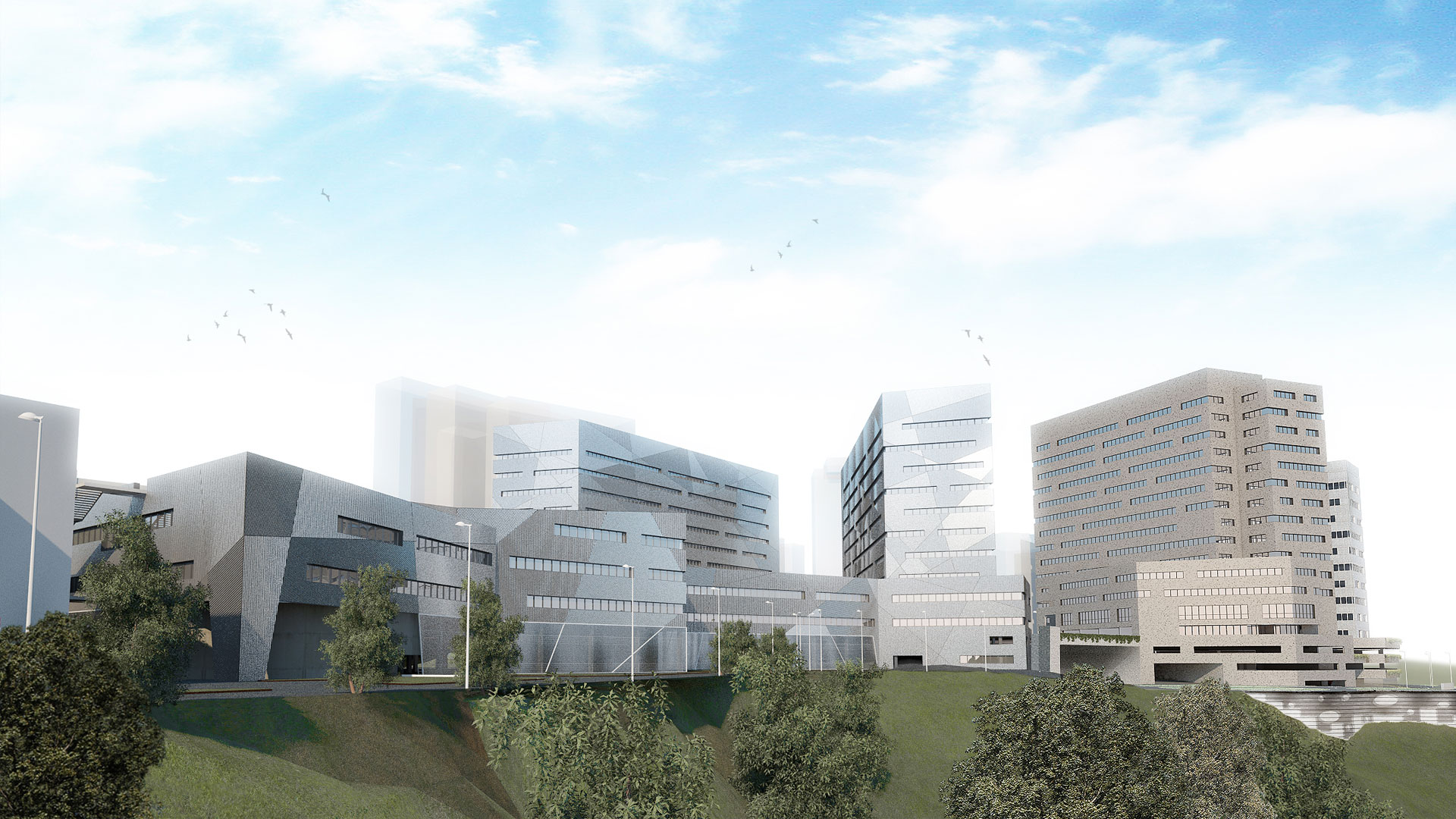 ---
New Polytechnic School campus
The first real university campus in Italy.
The facilities planned for the University want to offer students, professors and researchers not only adequate classrooms, laboratories and offices in which to develop their didactic and administrative activities but also to contribute to the achievement of a complete educational experience. This project is for young students and professionals that are becoming specialists, experts in their chosen field of study, and above all becoming the educators of tomorrow. The Great Campus allows them meet each other and exchange ideas, create and dream up new projects and create a network of individuals and mentors using the services of the park and it's open spaces.
---
The University Campus
Explore the project. Navigate the map.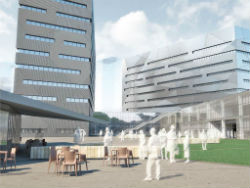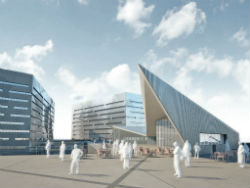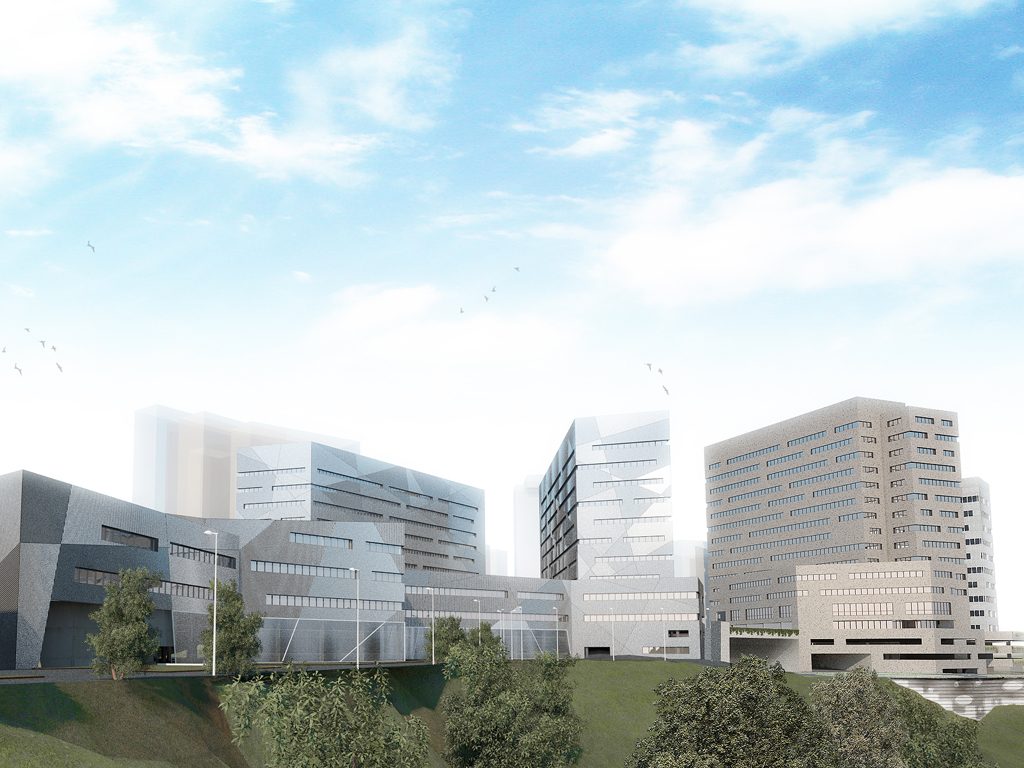 The Campus envisions the coming together of the entire engineering department of the Polytechnic School of Genova in one new campus. Great Campus will therefore be used by a total of 5500 students, researchers and graduate students..
The Campus was conceived in a way that a great part of the facilities will become a large open space equipped with covers, planned as a pedestrian zone and as a place to mingle, all inside of a large event center. The project goes beyond the signature of architect Mario Bellini and has involved professional studios and project experts for university buildings that have already helped create the Polytechnic School of Milan, Bovisa.
---
Departments: 25,132 square meters, with technical spaces and service projects with 100 offices for professors to meet, computer rooms and study spaces.
Classrooms: 18,287 square meters, with technical spaces and services equipped to the highest levels of environmental comfort and energy savings.
Interdepartmental library: 3,200 square meters, with archives and ideal places to study between lessons.
Laboratories: 16,000 square meters: cutting-edge spaces, with the newest and most sophisticated equipment and dedicated access. Among this equipment there will be the ship testing basin and wind tunnel
Two levels of covered parking for a total of 1,200 car, motorcycle and scooter parking directly connected to the departments and classrooms with elevators.
Possible expansion: 14,500 square meters to modernize and update the university campus over time.
2 cafès and restaurant locations
Auditorium with 400 seats conceived as an independent theatre, with a foyer, café and open to the main square to host outside events in collaboration with the neighboring multinational companies and with the Italian Institute of Technology located right in front of the faculty.
The project also plans to have living spaces for students.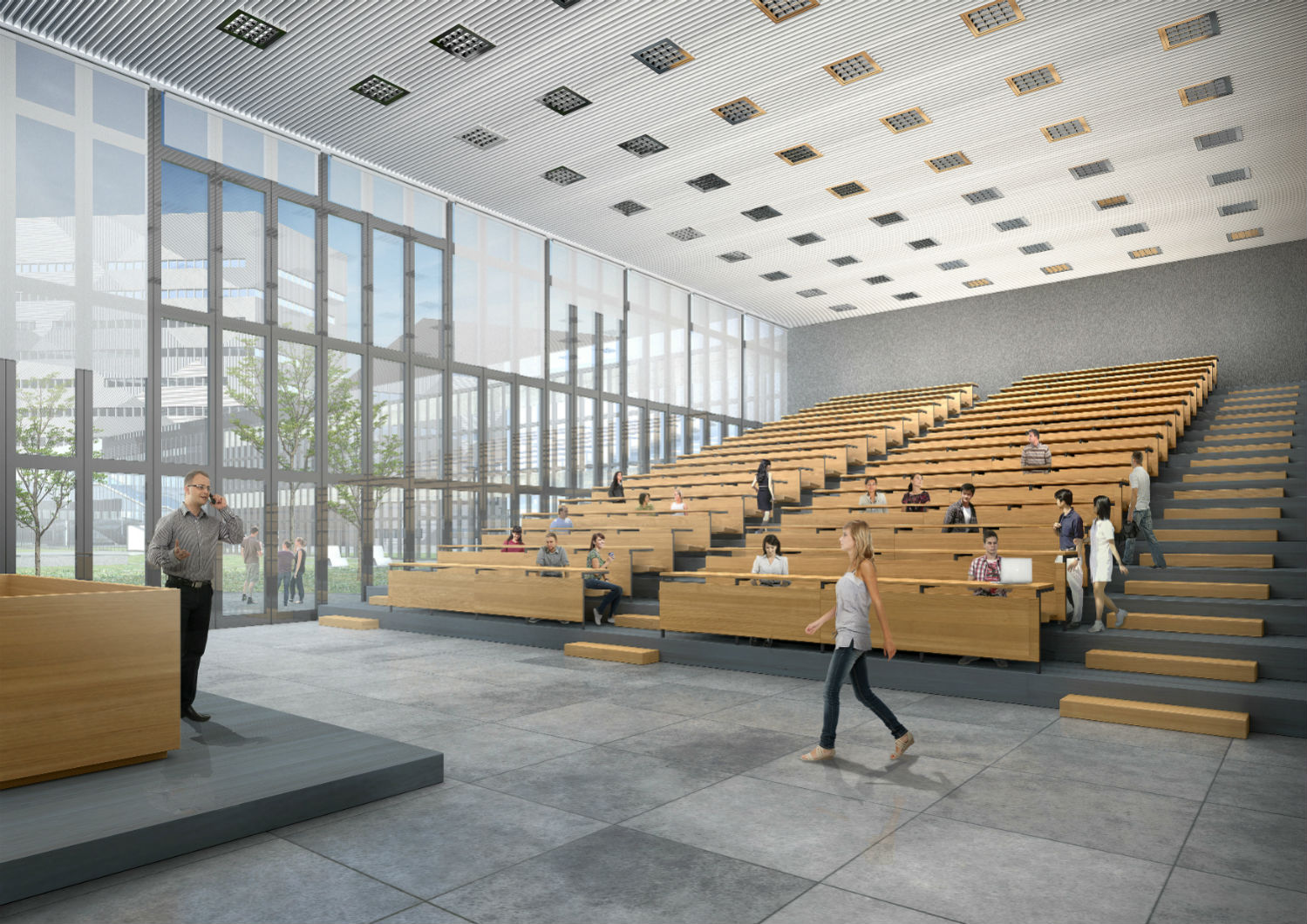 Student spaces
1,500 square meters, 300 rooms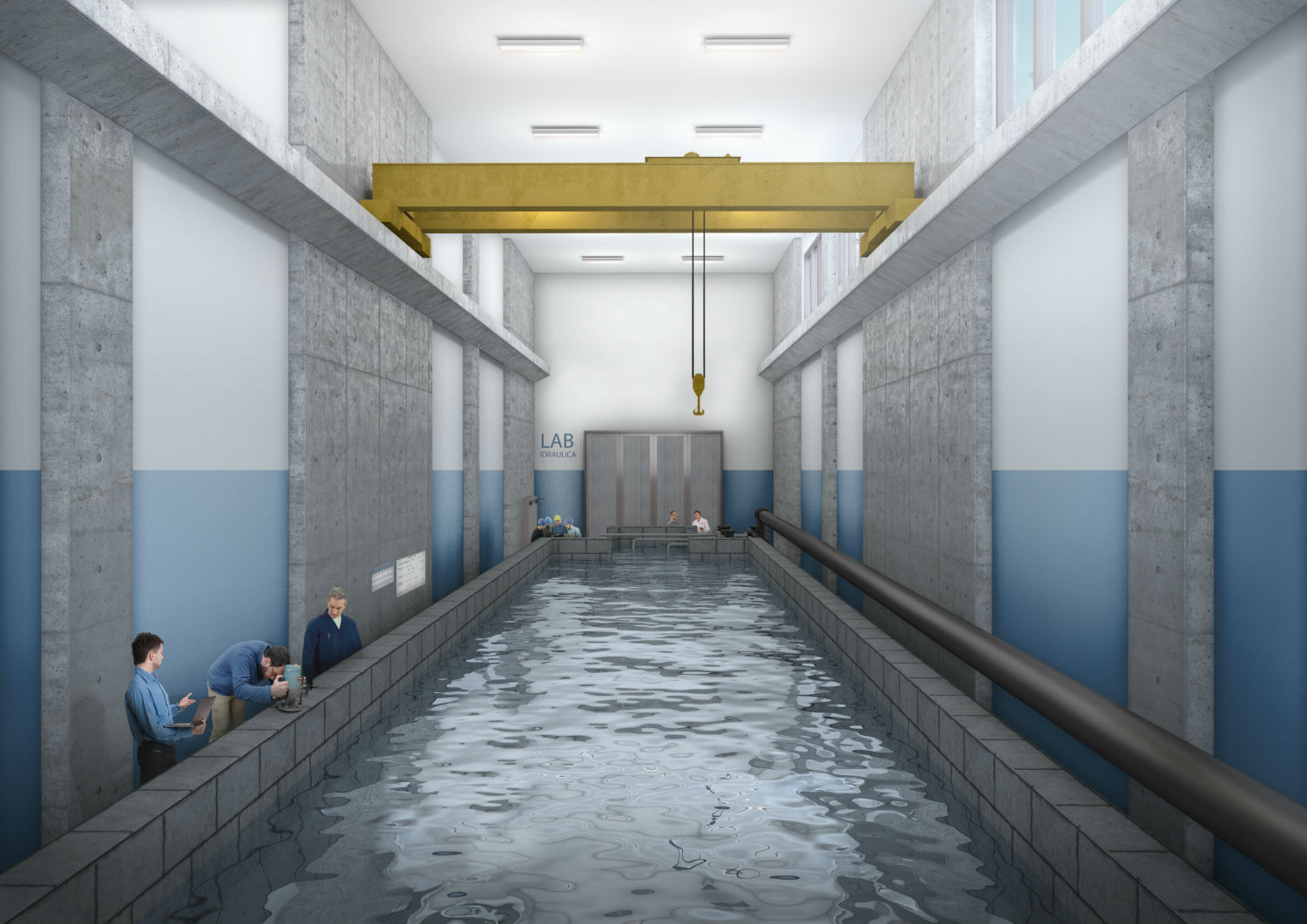 Laboratories
20,949 square meters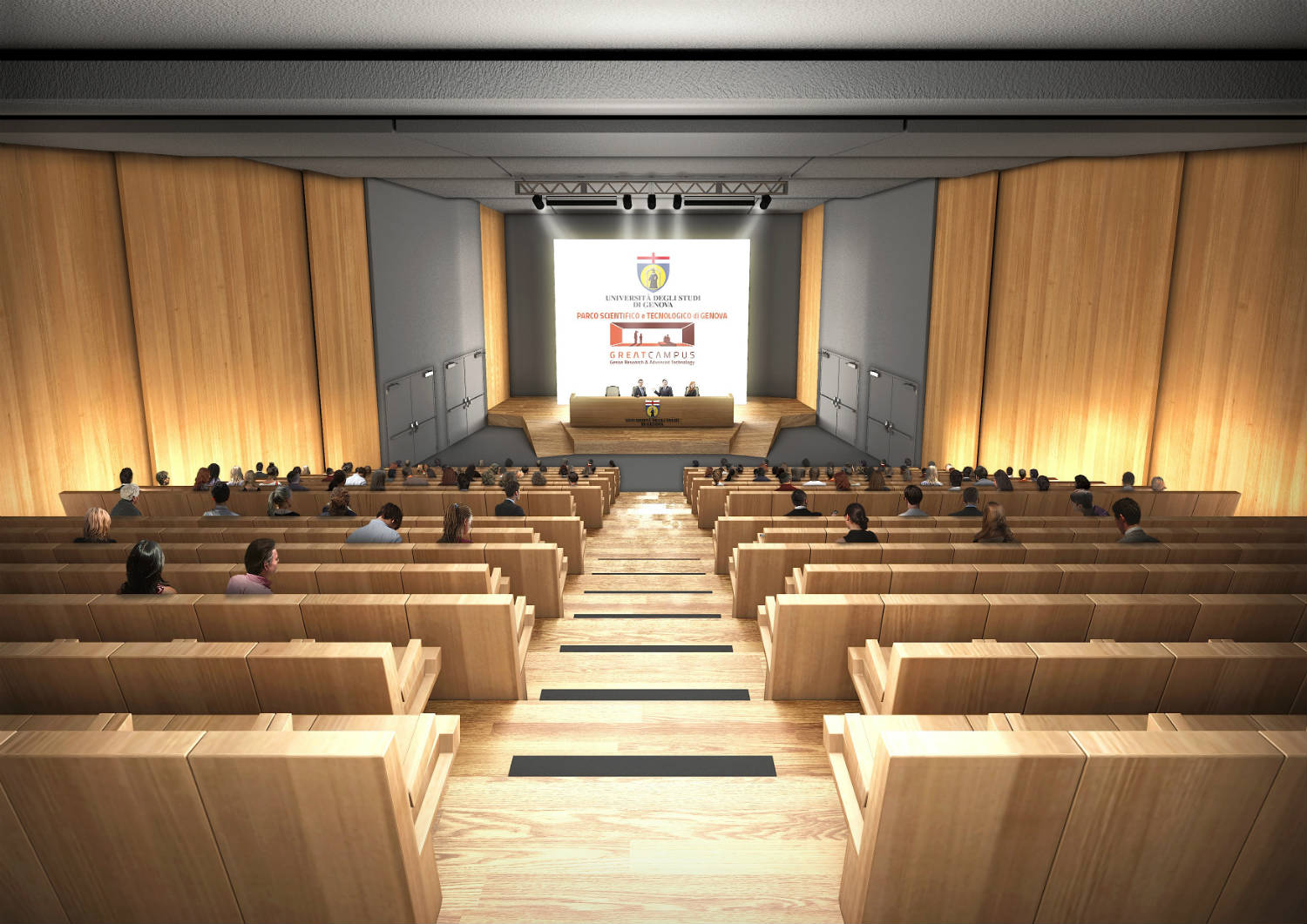 Auditorium
Independent auditorium with 415 seats
IIT – Italian Institute of Technology
The Center for Human Technologies of IIT
, located in GREAT Campus (
CHT@Erzelli
), has developed research in the realm of assistive robotics and rehabilitation for the development of support systems for the disabled and has conducted studies in the areas of cognitive science, artificial intelligence, cognitive robotics and neuroscience.
The personnel at CHT@Erzelli are currently made up of around 70 researchers, 16 technicians and 4 administrators. They represent 10 nations (average age of 30). The system will extend into an office with 4,500 square meters on three floors and employ more than 300 researchers.
The Campus also hosts research groups that are developing the Scientific Plan of IIT along the following lines of research:
Robotics, Brain and Cognitive Sciences (Headed by Giulio Sandini)
C'MON Cognition, Motion and Neuroscience (Led by Cristina Becchio)
Unit for Visually Impaired People (Headed by Monica Gori)
Biomedical Robotics Laboratory (Led by Leonardo De Mattos)
Represented at CHT@Erzelli is also the Laboratory of Electronic Design, a facility led by Marco Crepaldi, that works on the design and creation of advanced electronic systems using experimental and prototype devices developed in the research department at IIT. This electronic design is implemented full-spectrum and focuses on scientific research that takes advantage of methods from the Field Programmable Gate Array (FPGA), full-custom and integrated electronic design with low energy consumption.
---
Technological Incubator
1,500 square meters will be dedicated to the technological incubator intended not only to host innovative startups connected to the research conducted at IIT, but that will be open also to private business initiatives from external companies. The goal is to supply competitive technology to the global market, lower barriers to product development and attract investors. The incubator envisions laboratories dedicated to highly specialized startups, for which Invitalia has dedicated an investment of 4.4 million euros, for facilities and equipment, and that will become a certified incubator.